Hoe een uitlaat wrappen met uitlaatband?
---
Stap voor stap uitleg hoe je een uitlaat kan wrappen met uitlaatband!
Hoe wrap je een uitlaat met uitlaatband?
Allereerst, waarom zou je een uitlaat wrappen? Uitlaatband is een innovatieve manier om je uitlaat te isoleren en bied meerdere voordelen. Uitlaatband isoleert de uitlaat en zorgt voor een hogere temperatuur in de uitlaat. Een hetere uitlaat zorgt vervolgens voor meer vermogen, vermindert de temperatuur onder de motorkap, beschermt hitte gevoelige onderdelen en zorgt voor een koudere luchtinlaat temperatuur. Uitlaatband gebruiken is dus eigenlijk een hele eenvoudige manier om veel resultaat te behalen. 

Daarnaast geeft uitlaat tape een mooie afgewerkte look aan je motorruim en uitlaat of spruitstuk. Tegenwoordig erg populair voor de caferacers, bobbers, brat style en choppers.

Uitlaatband is universeel toepasbaar en wordt veel gebruikt bij auto's, motoren, vliegtuigen, boten, landbouwvoertuigen en bij industriele toepassingen. Een uitlaat wrappen is makkellijker dan je denkt! Volg onderstaande stappen voor een professioneel resultaat. Voor dat we beginnen wat algemene tips:

Tip 1: Zorg voor voldoende Uitlaatband! 10 meter lijkt veel maar voor een standaard 4 cilinder spruitstuk heb je al snel 15 meter nodig. Wanneer je niet zeker weet hoeveel je nodig hebt dan helpen we je graag verder!
Tip 2: Maak glasvezel Uitlaatband nat maar verzuip het niet in een emmer water! Hou de wrap onder de kraan en laat het water intrekken, dat is voldoende. Titanium vezel uitlaatband hoeft niet nat gemaakt te worden, het materiaal is al zeer soepel.
1: Voor deze installatie gebruiken we Thermo-Tec Copper uitlaatband, RVS kabelbinders en Thermo-Tec hittebestendige uitlaatband coating.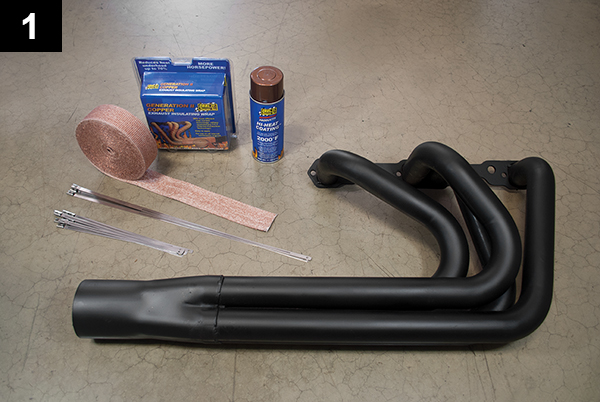 2: Wanneer je de Uitlaatband per buis op maat wil knippen volg dan deze stappen. Bepaal de lengte van elke buis en tel voor een bocht 20cm extra. Houd er ook rekening mee dat je 10cm van de collector mee wrapt.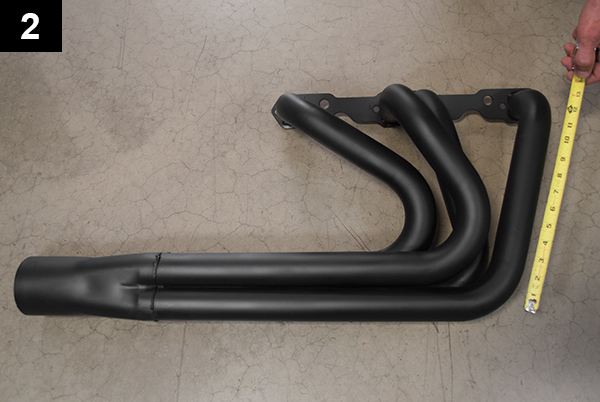 3: Begin met wrappen aan de bovenkant van het spruitstuk en borg daar de Uitlaatband met een RVS kabelbinder. Knip de kabelbinders af voor een nette afwerking. Gebruik eventueel de DEI tyrap montage tool!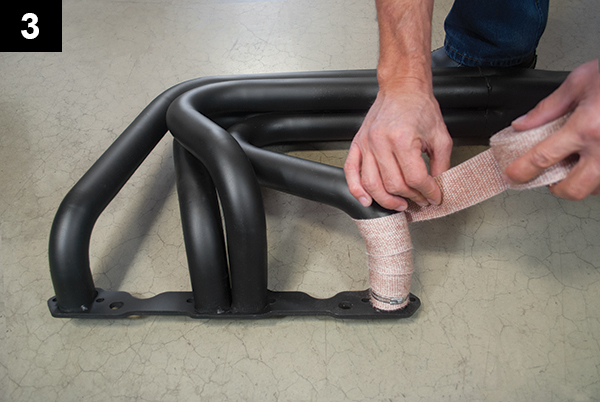 4: Om te zorgen dat het spruitstuk goed isoleert, wrap de Uitlaatband netjes en strak om de buizen. Zorg voor tenminste een overlap van 0.6 cm per wikkeling voor optimale isolatie en afwerking.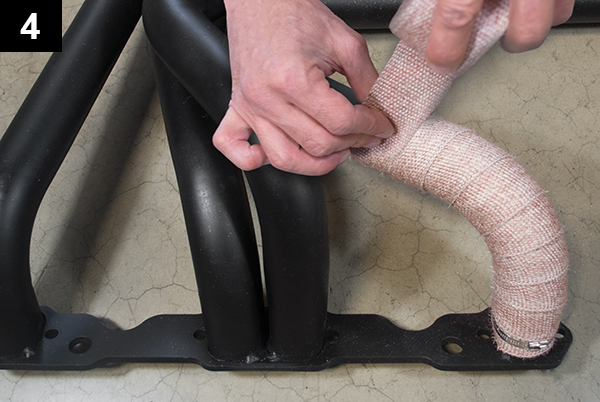 5: Wrap tot ongeveer 10cm op de collector en zorg ervoor dat je de Uitlaatband borgt met een RVS kabelbinder.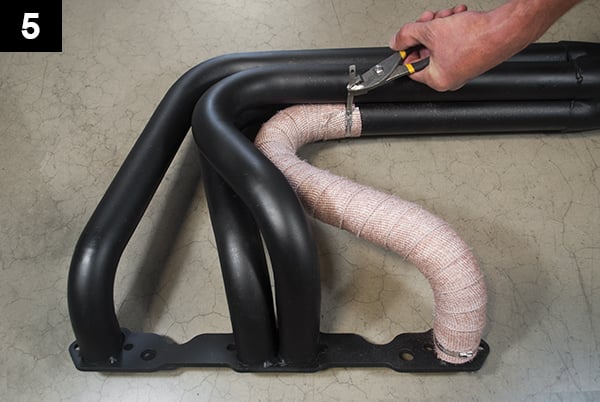 6: Herhaal dit vervolgens voor elke buis van het spruitstuk. Wanneer de buizen te dicht op elkaar zitten, gebruik dan een platte schroevendraaier om voorzichtig speling te creeeren tussen de buizen voor de Uitlaatband.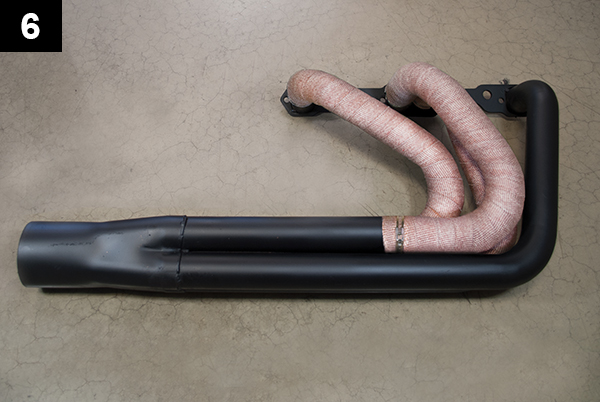 7: Wrap vervolgens de laatste buizen van het spruitstuk met het Uitlaatband.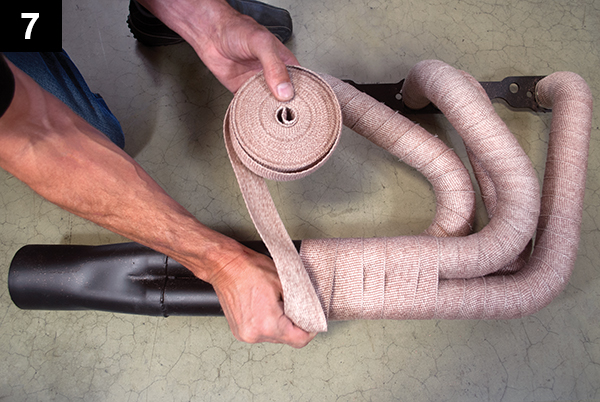 8: Gebruik een grote lange RVS kabelbinder om de Uitlaatband te borgen aan het spruitstuk.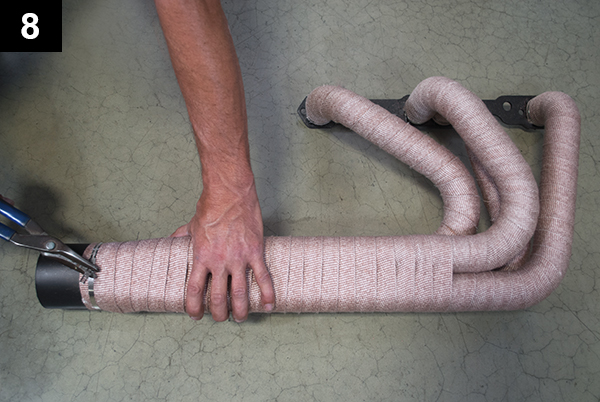 9: Verwijder eventueel vuil wat tijdens de installatie is gebeurd. Breng daarna de hittewerende coating die speciaal ontwikkeld is voor Uitlaatband aan. Zorg ervoor dat de gehele uitlaatband goed is ingespoten en werk uiteraard in een goed geventileerde omgeving. De hittebestendige coating zorgt voor een extra lange levensduur en beschermt tegen schadelijke vloeistoffen zoals benzine en olie.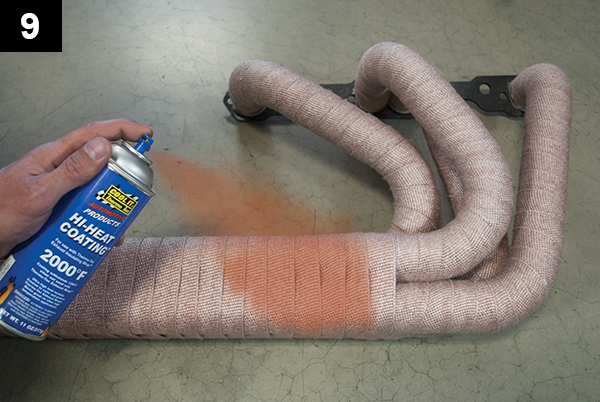 10: Monteer het spruitstuk en klaar! Je uitlaat spruitstuk wrappen met Uitlaatband zorgt voor een koudere temperatuur in het motorruim en voor meer vermogen. Daarnaast geeft het een antrekkelijke cleane look aan de motor!
 
Heb je nog vragen? Stel ze dan hieronder, of neem contact met ons op!