Tan Fibreglass Exhaust Wrap 5cm x 30m max 550 °C
Buy 2 for €58,50 each and save 10%
Buy 3 for €55,25 each and save 15%
Buy 5 for €52,00 each and save 20%
Buy 10 for €45,50 each and save 30%
Gratis retouren

Klanten geven Heat Shieldings een 9,4

Levering 6 dagen per week

Gratis verzenden binnen NL en BE boven de €50,-

Delivery time 1-2 days
Information
Product information Tan Fibreglass Exhaust Wrap
 
The Heat Shieldings exhaust insulation wrap contains weaved fiberglass to which it thanks its robustness. This exhaust wrap is able to withstand direct heat up to 550 °C.


Specifications:
The exhaust insulating wrap...
Significantly reduces the heat radiation from the exhaust

Is of very high quality

Is produced in Europe following to the latest ISO-standards

Is  easy to apply and very flexible 

Is delivered without any mounting materials

Does not come with any installation materials



How much insulation wrapping do I need?
Depending on the diameter of your exhaust, you require the following quantities of wrappings:


60 mm diameter:

     6

meter insulation material for every meter of exhaust

90 mm diameter:

     9 

meter insulation material for every meter of exhaust

120 mm diameter:

   11.5 

meter insulation material for every meter of exhaust
(Always measure the distance at a bend on the outside of the bend in order to assure the right diameter for your exhaust).
Why should one wrap an exhaust with an insulating wrap?
An insulating wrap containing fiberglass material is an excellent solution for the insulation of an exhaust and it is very easy to apply. With 'performance motors', the insulation of the exhaust also contributes to a better gas flow due to elevated temperatures within the exhaust. 
Heat Shieldings' exhaust insulation wrap is universally applicable and is generally applied on the exhausts of cars, trucks, motorcycles, airplanes, boats, agricultural vehicles and industrial machinery. 
Insulating your exhaust is easier than you'd expect!
Tip 1: Make sure you have a sufficient amount of insulating wrappings. For example, you'll easily end up with 15 meters of insulation wrappings for a 4 cylinder manifold. If you are not sure about the quantity of insulation material that you require for your equipment, then don't hesitate to contact us with your questions!
Tip 2: Wetten the fiberglass insulation wrap, but pay extra attention to the amount of water that you apply. Try not to drown the insulation wrap! Hold the insulation wrap underneath the tap and let the material absorb the water, this will be sufficient. The titanium (basalt fibers) insulation wrap does not require to be made wet before application onto the exhaust. This insulation material already is very flexible from itself. 
Tip 3: In order to tightly fix the stainless steel cable binders we advise you to utilize the DEI-montage-tool. With this tool you'd be able to easily tighten the tyraps. We recommend you to use 1 tyrap at the beginning of the insulation wrap for the extra support, and 2 tyraps at the end of the wrap in order to secure it along the entire width of the exhaust.
Don't hesitate to contact us for more information about the Titanium exhaust wrap!
Specifications
| | |
| --- | --- |
| Material: | Woven fiberglass |
| Length: | 100 Feet / 30 meter |
| Width: | 2 inch / 5 cm |
| Thickness: | 1/24 inch / 1.5 mm |
| Max. Temp: | 600 ° C |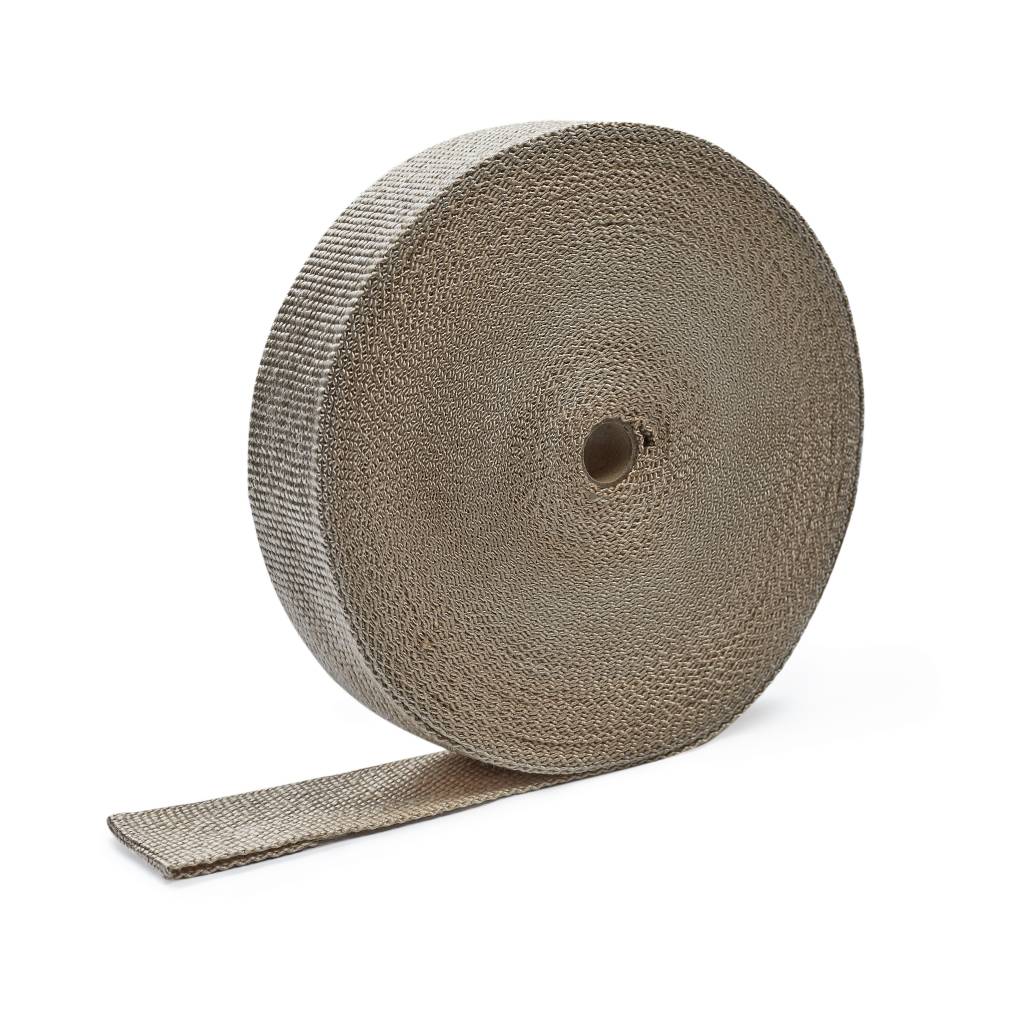 Nice and firm heat wrap, good pricing