0.32 m² | 5 mm | ARMOR self-adhesive | Heat-resistant matt fiberglass with sturdy aluminum layer up to 950 ° C 85,-
0.32 m² | 5 mm | ARMOR self-adhesive | Heat-resistant matt fiberglass with sturdy aluminum layer up to 950 ° C
Gratis retouren

Klanten geven Heat Shieldings een 9,4

Levering 6 dagen per week

Gratis verzenden binnen NL en BE boven de €50,-

Delivery time 1-2 days
Information
Key features
Heat resistant mat 60 cm x 53 cm
Glass fiber composite resistant up to 375° C direct heat
Adhesive layer resistant up to 230 ° C direct heat
Aluminum top layer for extra stiffness and is very robust, resistant up to 950 ° C
3mm thick fiberglass composite layer
5mm total thickness
Easy to shape and suitable for many surfaces
Designed to provide the best possible heat protection in areas where high temperatures are always present and problematic, Heat resistant shield aluminum self-adhesive limits heat transfer on fire walls, transmission tunnels, floor boards, fuel cells and other areas where heat is an issue. Heat resistant shield aluminum self-adhesive provides excellent light weight thermal protection, acts as a guard against track and road debris, and provides sound deadening as well.
Constructed with an embossed 10 mil aluminum face bonded to 1/8" composite glass-fiber core and backed with a high temp super strong pressure sensitive backing, Heat resistant shield aluminum self-adhesive withstands up to 1750°F of direct continuous heat. The adhesive side holds past 450°F. Its improved multifaceted modern aluminum surface offers improved reflectivity and rigidity and allows for ease of installation. At only 3/16" thick, this product can be shaped and trimmed for a custom fit and is ideal for minimal clearance areas.
With a unique and patented finely woven glass-fiber backing, Heat resistant shield aluminum self-adhesive is the easiest, most cost effective way to control thermal transfer while protecting expensive components and vehicle occupants from extreme heat situations and sound.
Heat resistant shield aluminum self-adhesive can be used on any number of surfaces including, metal, aluminum, carbon fiber, plastic, and more. Multiple uses include: fire walls, under hoods, transmission tunnels, floor pans, fuel cells, and exterior under vehicle locations – anywhere to reflect damaging heat.
Ideal for firewalls, under-vehicle, floor pans, oil tank box areas, transmission tunnels, wrapping fuel cells, under hoods & more
Blocks radiant heat from entering driver compartment
Withstands direct high heat temperatures up to 1750°
Serves as a barrier to unwanted road, tire, & engine noise
Constructed from 10 mil aluminum bonded to finely woven layer of high temperature resistant glass fiber
Easy to form to shapes and contours

Excellent heat & sound barrier
Wind and water will not affect adhesive
Minimum clearance required, only 3/16" thick
Just trim, peel & stick
Aggressive self-adhesive backing holds past 450°F
Withstands 1750°F direct continuous heat
Use to shield & reflect unwanted heat
Multiple uses
Adheres to almost any surface or material including to fiberglass
Specifications
| | |
| --- | --- |
| Material: | Aluminum, Fiberglass, Adhesive |
| Max. Temp: | 1750°F / 950 ° C of direct continuous heat, the adhesive side 450°F / 230 ° C |
| Thickness: | 3/16" / 5mm |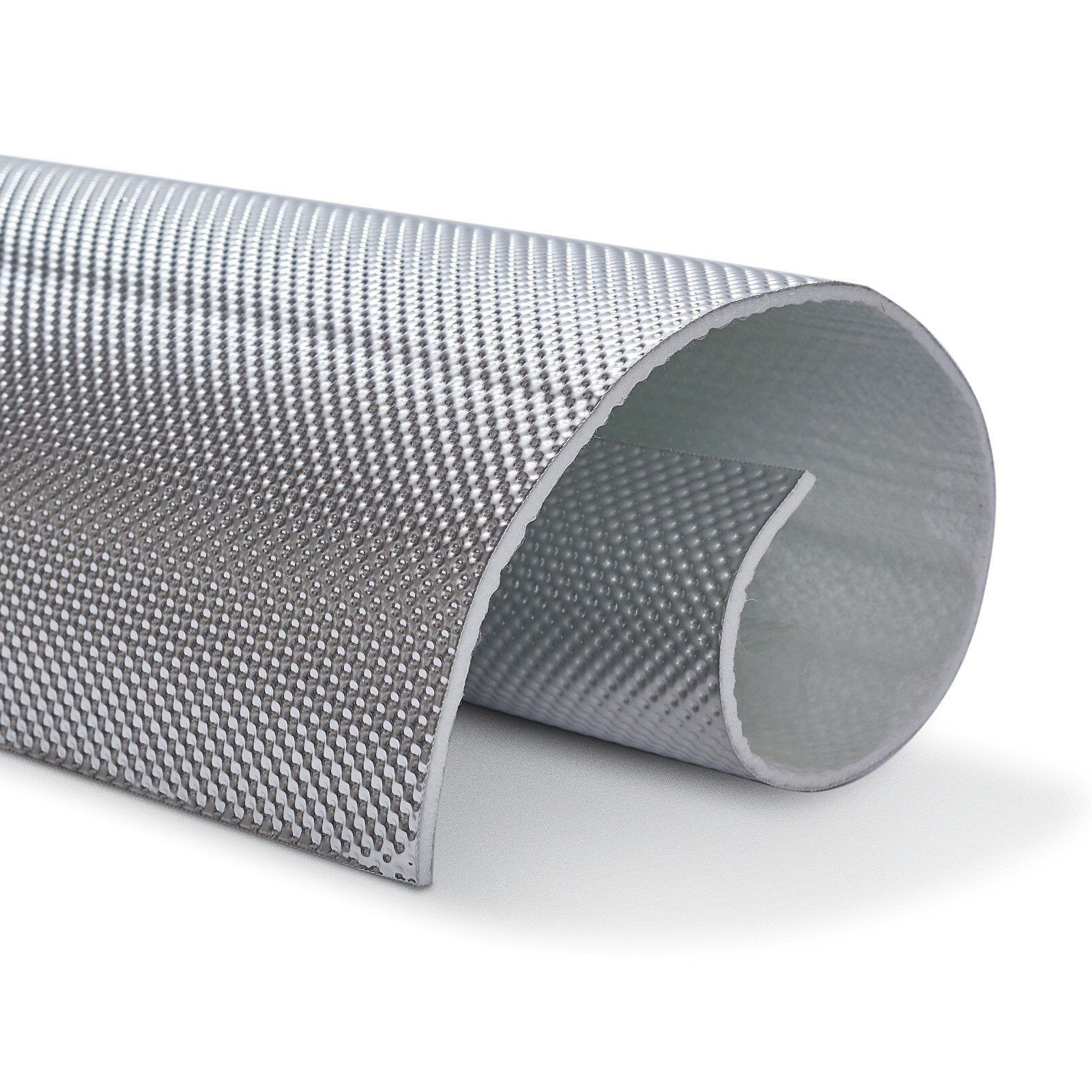 Prijzig materiaal, maar wel het beste wat ik heb kunnen vinden
Beste mat te koop, gebruik voor mijn uitlaattunnel
Zeer mooie luxe afwerking op het schutbord!
Op het eerste gezicht geen goedkope optie. Na het ontvangen van de mat blijkt het toch wel erg hoge kwaliteit te zijn. Het is zijn geld waard!
Mooi stuk isolatie materiaal, gebruikt onder mijn inductie kookplaat. Snelle levering!
Mooie stevige mat door de dikke aluminium laag, goed buigbaar ook. Top van de snelle levering
Gisteren de isolatie in de carter bescherming geplakt. Eigenlijk ging dat met wat knippen en snijden erg gemakkelijk! Resultaat is dat het hinderlijke geluid voor 80% verdwenen is en de isolatie blijft prima zitten. Mijn complimenten voor het prima product!!!!